Par Nicole Delépine
La Pologne prend une décision majeure et s'oppose à la Commission européenne. La fin de Pfizer et la remise en question de l'UE ?
« Varsovie refuse d'accepter et de payer de nouvelles livraisons de vaccins »[1]
La Pologne refuse de recevoir et de payer de nouvelles livraisons de vaccins anti-Covid, a déclaré mardi le ministre de la Santé, indiquant que son pays disposait toujours de 25 millions de doses non utilisées.
« À la fin de la semaine dernière, nous avons eu recours à la clause de force majeure et informé à la fois la Commission européenne et le principal fabricant de vaccins (Pfizer, ndlr) que nous refusions de recevoir ces vaccins et que nous refusions également d'effectuer les paiements », a déclaré Adam Niedzielski à la télévision d'informations en continu TVN24.
« Cette situation entraînera un conflit juridique. En fait il a déjà lieu », a-t-il ajouté en indiquant que le contrat portant sur les vaccins avait été signé « entre la Commission et les producteurs » et que son pays ne fait pas directement partie de ce contrat.
Selon lui, la Pologne, pays de 38 millions d'habitants, dispose toujours de 25 millions de doses de vaccins, alors que 67 à 70 millions d'autres ont été commandées. Actuellement, environ 51 % des Polonais ont été entièrement vaccinés, 59 % ont reçu une seule dose, et le taux de vaccination a fortement baissé, selon les données du ministère de la Santé.
Un peu de transparence montre les dangers des injections Pfizer
Cette information survient en même temps des groupes d'avocats ont obtenu par jugements que Pfizer ouvre les dossiers qu'il comptait garder secrets 75 ans. Ces dossiers sont explosifs : par exemple Pfizer savait dès le début de la pandémie que l'immunité naturelle était meilleure que celle obtenue par l'injection.
Des effets secondaires graves et des décès avaient été cachés sur le premier essai. :
La quantité de vax selon les lots varient de 1 à 100 expliquant les différences majeures d'effets secondaires. Un essai mondial caché à la population cobaye.
Informations relayées sur twitter : (Tara F [56]) le 17 avril 2022 et theepochtimes, suite à la publication le 1er avril 2022 d'un autre lot de 11 000 documents Pfizer par la Food and Drug Administration des États-Unis.[2]
Aucune différence d'évolution n'a été observée entre ceux qui avaient déjà été infectés par le COVID et ceux qui avaient reçu le vaccin. Aucun des deux groupes n'a connu d'infection grave.
La 2e révélation est que les effets secondaires des injections étaient plus graves chez les jeunes, âgés de 18 à 55 ans, que chez ceux âgés de 55 ans et plus. Fait intéressant, la documentation de Pfizer comprend également des informations médicales que les médias grand public et les vérificateurs de faits ont qualifiées de désinformation.
Pfizer savait que, dans la première semaine suivant l'injection, les personnes de tous âges souffraient d'une immunosuppression transitoire ou, en d'autres termes, d'un affaiblissement temporaire du système immunitaire, après la 1re dose.
Cela peut avoir faussé les taux d'infection, car les personnes n'étaient considérées comme partiellement vaccinées que 14 jours après leur premier vaccin et officiellement complètement vaccinées 2 semaines après la deuxième dose.
Or, si les personnes sont sensibles à l'infection au cours de cette première semaine, mais sont considérées comme non vaccinées pendant cette période, cela donne l'impression que les personnes non vaccinées sont plus sujettes à l'infection alors que ce n'est tout simplement pas vrai.
L'essai Pfizer avait d'emblée montré que l'infection était plus fréquente dans le groupe vacciné que dans le groupe placebo et de manière significative : 409 contre 287 — au cours des 7 premiers jours suivant le vaccin.
Pfizer et la Food and Drug Administration des USA conscients dès le premier essai que le vaccin provoquait une immunosuppression.
Les dernières données du gouvernement britannique montrent que
par rapport aux non-vaccinés, ceux qui ont reçu deux doses sont :
– Jusqu'à 3 fois plus susceptibles d'être diagnostiqués positifs au COVID-19
– 2 fois plus susceptibles d'être hospitalisés avec COVID-19
– 3 fois plus susceptibles de mourir du COVID-19
La comparaison des taux de mortalité suggère que toute personne de plus de 40 ans qui a été doublement piquée est désormais plus susceptible de mourir du COVID qu'une personne non vaccinée du même âge.
Complications des pseudo vaccins aux USA
Au 25 mars 2022, il y avait aux USA 145 781 hospitalisations et 26 396 décès répertoriés liés à la « vaccination ». Et en UE (27 pays seulement sans la GB)
La documentation de Pfizer comprend également des informations médicales que les médias grand public et les vérificateurs de faits ont qualifiées de désinformation.
Un formulaire de consentement pédiatrique énumère plusieurs effets secondaires possibles, y compris un taux de myocardite de 10 sur 100 000 — bien supérieur au taux de 1 sur 50 000 (c'est-à-dire 2 sur 100 000) précédemment rapporté par les gouvernants et les médias mainstream.
Dans l'histoire moderne, aucun médicament n'a été aussi nocif et mortel que ces injections expérimentales.
Et pour les vaccins seulement :
Entre décembre 2020 et fin février 2021, Pfizer a expédié 126 212 580 doses de son « vaccin » ARNm dans le monde. Divisé par 158 893 effets secondaires dont il avait reçu notification, nous obtenons un taux d'événements indésirables par dose de près de 1/800
IL SAVAIT. Il était tout simplement irresponsable de « vacciner » en masse !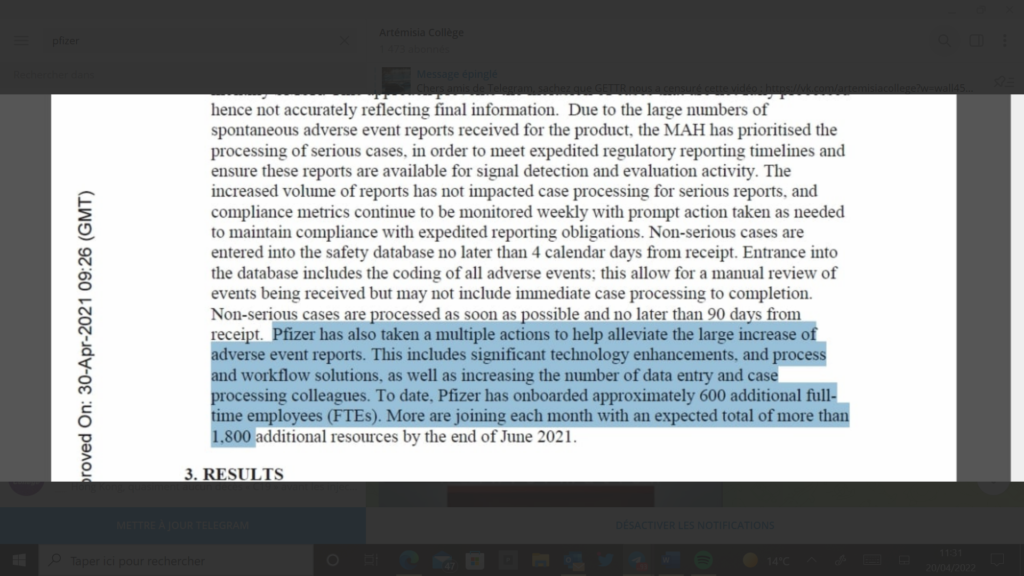 Pfizer avoue avoir engagé 600 personnes juste pour traiter « le grand nombre de rapports d'effets secondaires des vaccins » et prévoyait d'en engager 1800 pour fin juin 2021 !
Pendant ce temps Macron déclarait le vaccin obligatoire pour les soignants et imposait le Pass Sanitaire…
Révélé par les documents publiés via FDA dans un nouveau lot, on en est à 11 000 documents maintenant. Page 6 du rapport « reissue_5.3.6 postmarketing experience.pdf »
DRAME COLLECTIF
De l'aide proposée sur le canal Telegram Artemisia college :
Éloïse Soave :
Via : https://odysee.com/@LeLibrePenseur.org : 2/LLE20-Eloise-Soave-pfizer:4 Soave :
« Nous allons vers des effets secondaires à retardement. Il y a des personnes qui ont des effets secondaires à l'instant T, mais pour celles qui n'en ont pas, personne ne dit que dans 1 an, 2 ans, vous n'allez pas avoir la liste qui est déjà constatée par pharmacovigilance sur les effets secondaires… Il n'y a personne qui vous le garantit aujourd'hui… Ce sera notre héritage à tous… J'ai beaucoup de témoignages d'hommes sur les effets secondaires… De gros problèmes d'érection, problèmes cardiaques… AVC entraînant la mort… Je vous invite à me contacter, si vous avez besoin d'aide juridique ou autre ».
Pour des informations récentes sur les effets secondaires, vous pouvez écouter les replays du doctothon du 16 avril 2022.
Et aussi aller voir Instagram #OUESTMONCYCLE — APRÈS LA « VACCINATION » ?
Lola Dewaere (actrice) a brisé le silence : « Hémorragie et caillots de sang » :
https://www.rtl.fr/culture/medias-people/cotonavirus-lola-dewaere-temoigne-des-douleurs-dont-elle-est-victime-depuis-sa-vaccination-7900134121.
Lola Dewaere témoigne des douleurs dont elle est victime depuis sa vaccination
« Hémorragie et caillots de sang », l'actrice Lola Dewaere parle de son calvaire qu'elle associe a ses vaccinations contre le Covid-19.
« MOI JE VEUX QUE ÇA S'ARRÊTE ! » supplie Lola Dewaere dans une publication Instagram. L'actrice française y explique son parcours vaccinal, semé de syndrome pré menstruel, d'absence de règles et d'hémorragies accompagnées de caillots de sang.
Lola Dewaere explique comment elle vit avec ces symptômes : « Je dois aller tous les jours tourner avec 1 culotte prémenstruelle + 1 serviette par-dessus + 1 tampon et je dois me changer toutes les 10 minutes, car même ces triples protections ne suffisent pas! » L'actrice de 42 ans se compare notamment à des scènes de film d'horreur pour imager le flux menstruel insupportable qu'elle subis depuis maintenant plusieurs mois.
Selon elle, ces symptômes sont dus aux trois doses de vaccin contre le Covid-19 qu'elle a reçues depuis le mois d'aout. Elle appelle également aux témoignages en partageant une photo du compte @ouesmoncycle, qui partage des témoignages de femmes ayant des cycles menstruels perturbés depuis leur injection de vaccin Covid-19.
Les experts en parlent depuis longtemps :
Alexandra Henrion-Caude (généticienne, à 22 min) :
Diane Protat (avocate, vidéo de Reaction19 du 8 mars 2022 à 31 min) :
https://videos.reaction19.fr/?mediaId=e010b212-e6fa-4467-803c-0a47dc666a15
Recensement de témoignages de femmes à la suite de la « vaccination » :
OSONS-EN PARLER ENSEMBLE : Les pseudo vaccins font débander !
Et les hommes finissent par parler aussi de leurs problèmes d'érection molle puis absente associée à une grande fatigue après les injections, mais ces troubles de l'érection sont bientôt mis sur le compte d'une dépression liée au contexte. Ben voyons !
Pour ne pas être soumis à l'obligation de la pseudo vaccination et ses complications : voter tout sauf Macron !
Même l'Allemagne commence à se révolter contre cette injection toxique :
et même un joueur de tennis parle des conséquences tragiques sur les performances
restez vigilants sur cette injection !  Lisez les livres de Laurent Toubiana et de Laurent Muchielli par exemple
 et protégez « les enfants sacrifiés du Covid » pour éviter les injections aux enfants qui ne risquent rien du covid
https://docteur.nicoledelepine.fr/wp-content/uploads/2022/03/E-2-dSZWUAoLJRP.jpg
831
830
Delépine
https://docteur.nicoledelepine.fr/wp-content/uploads/2017/01/Logo-Nicole-Delepine-300x138.jpg
Delépine
2022-04-23 13:25:32
2022-04-23 14:43:00
La fin du vaccin Pfizer annoncée ?